Dean's Message
Welcome to the college of commerce and business administration(CCBA)!
I am thrilled to invite you to our CCBA community of erudite and professional academic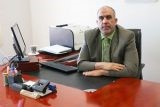 which are eager to provide students and key stakeholders a practical curriculum, excellent teaching, impactful research and engaged service.
The CCBA being one of the most vibrant colleges in Dhofar university has world class infrastructure, distinguished and multicultural faculty who constantly strive to excel in providing the best educational inputs, practical training and inculcate among its students an enterprising nature and entrepreneurial spirit. Here students are groomed into lifelong learners equipped with knowledge to make an impact in the development of the community and the nation.
Our diploma, bachelors and master's programs equip and infuse leadership skills in our graduate by providing them opportunities to effectively engage, interact and learn from industry and community leaders.
We are actively pursuing national accreditation as well as accreditation from the association to advance collegiate schools of business(AACSB) international.
CCBA is always abuzz with students from dawn to dusk, its labs steaming with young minds to experiment ideas, one can see young entrepreneur discussing business, sitting in every nook and corner of the building be it stairs, or corridors, or faculty offices it is BUSINESS round the clock.
I encourage you to browse our website or visit our academic councilor in the college to know more about the academic programs and environment which could help you to be part of our fantastic and exciting community!
Mawih Kareem Shakir
Acting Dean