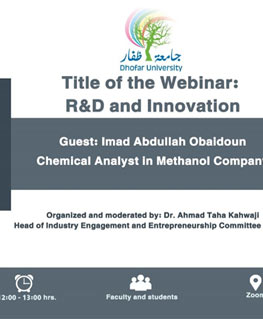 R&D and Innovation
CCBA believes that learning is a continuous process. As a part of its initiative, CCBA organized some valuable activities for the students and faculty.
Lecture (through Zoom) organized by Industry Engagement and Entrepreneurship committee about R&D and Innovation which is presented by: Mr. Imad Abdullah Obiadoun- Chemical analyst in Salalah Methanol Co.
In this lecture, the presenter explains the importance of research and development (R&D) activities and its relationship with development of the products in Salalah Methanol Company.